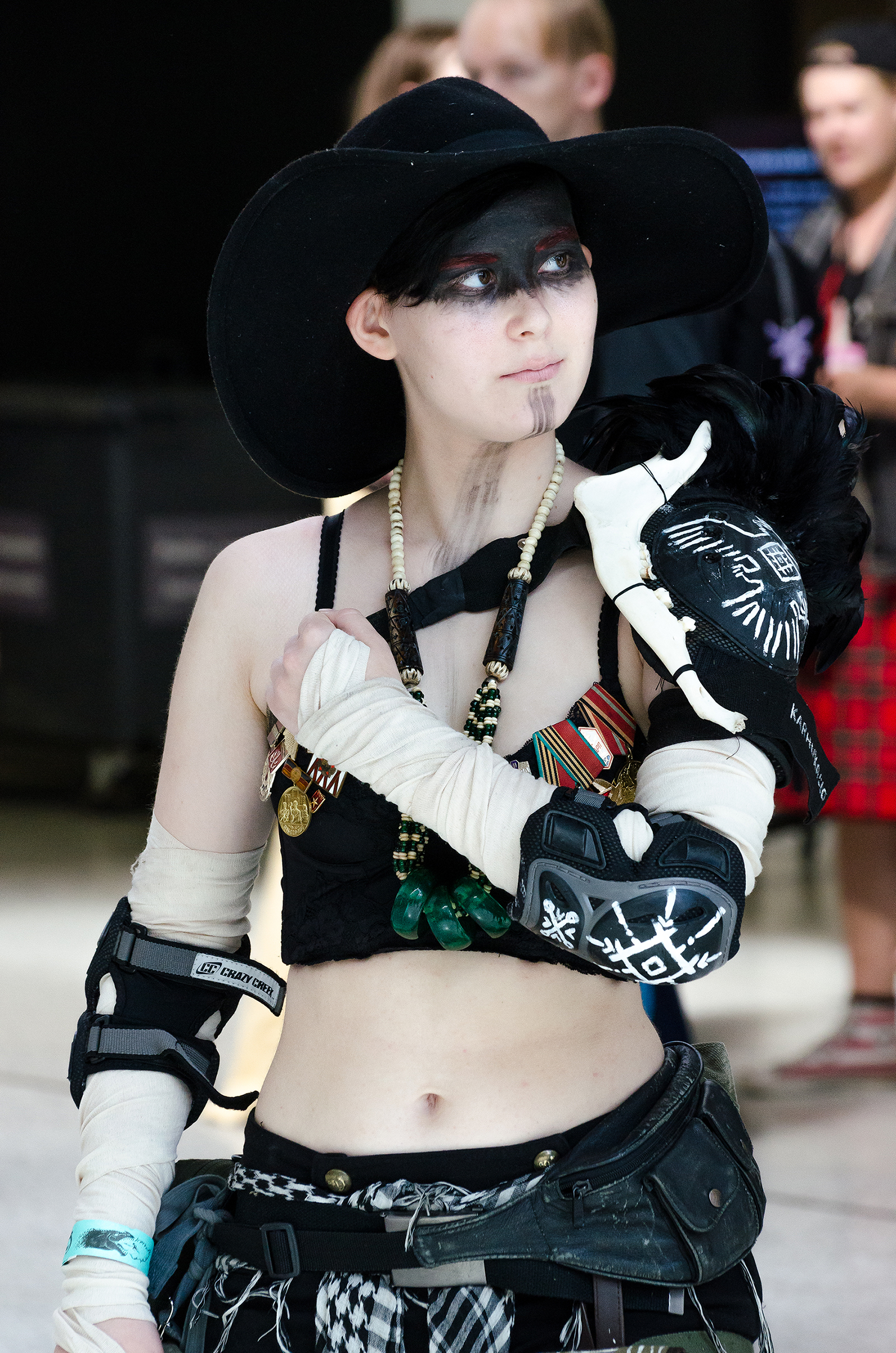 Ropecon ♥ volunteer heroes
Ropecon is organised entirely by volunteers – are you the volunteer hero we are looking for? Would you like to lend a helping hand? Get to know other volunteer heroes? See and experience for yourself what goes into making of Ropecon? Whether you are a fledgling volunteer hero or a seasoned veteran, you are welcome to join us. Let's make Ropecon happen together!
Come and join us in the making of the largest non-commercial role-playing game convention in Europe! Ropecon is organised entirely by volunteers: by the gamers, for the gamers.
More information on different volunteer positions and how to sign up below. If you have any questions, please do not hesitate to contact us!
Ropecon 2019 Volunteer & Staff Coordinator 
Kristiina Mannermaa
tyovoima@ropecon.fi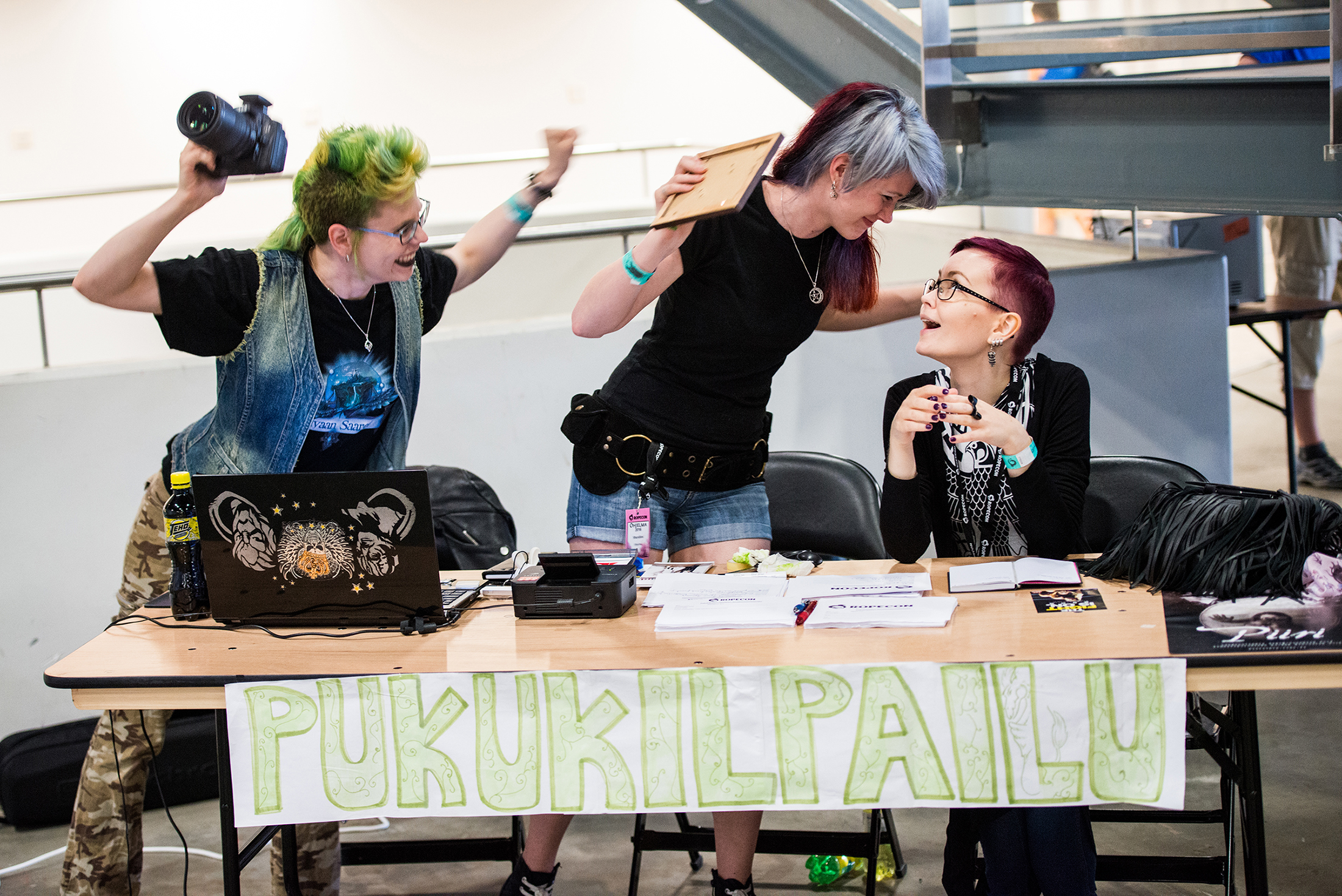 Volunteer positions
⊕ Ticket sales: selling, exchanging and checking wristband tickets
Selling tickets using cash and a card payment terminal. Exchanging pre-ordered tickets into wristband tickets, attaching wristbands on attendees and checking attendees for valid wristbands upon entry.
⊕ Cloakroom: storing clothing, luggage and other items
Receiving, storing and handling clothes, bags, luggage and other items that attendees drop off at the cloakroom.
⊕ Info Desk: guiding and informing attendees
Staff at the Info Desk answers questions and helps attendees solve any issues they might have during the convention. This position is great for improving your skills in customer service, quick thinking and problem solving.
⊕ Visitor Services: supervising and maintaining the accommodation area, Children's Playroom, showers and dressing rooms
Maintaining cleanliness and supervising activities at the Children's Playroom. Supervising and maintaining cleanliness and safety of the accommodation area, showers and dressing rooms.
⊕ Ropecon Shop and Flea Market: selling products at the Flea Market and merchandise at the Ropecon Shop
Selling Ropecon merchandise, maintaining the sales booth, etc. A couple of shifts are also available during the staff after party held after the convention.
⊕ Staff Lounge: supervising and maintaining the Staff Lounge
Maintaining the cleanliness of the staff lounge and ensuring that there is food and beverages (especially coffee) being served throughout the convention.
⊕ Game Desk: handling sign-ups for games, introducing attendees to new games, supervising the gaming area
Staff at the Game Desk run the Board Game Library, which is open 24h. During the day staff also help attendees find games to sign-up to and guide attendees with any miniature wargame, card game or board game related questions they might have.
⊕ Runner: providing practical support for program organisers
Helping program organisers with any IT issues they might have, making sure that programs start and end on schedule.
⊕ Logistics: helping carry and move stuff around
Carrying (sometimes heavy) items and driving a rental van. Most of the shifts are between 8 am and 4 pm on Friday or between 3 pm and 10 pm on Sunday.
⊕ Technical production: providing IT and tech support at the convention
Building, maintaining and dismantling the IT and AV infrastructure as well as the recording and stream production for the convention.
⊕ Security steward: ensuring the safety and smooth operation of the convention
Guiding attendees and ensuring their safety at the convention. A valid security steward license is required to volunteer for this position.
More information and sign up
tyovoima@ropecon.fi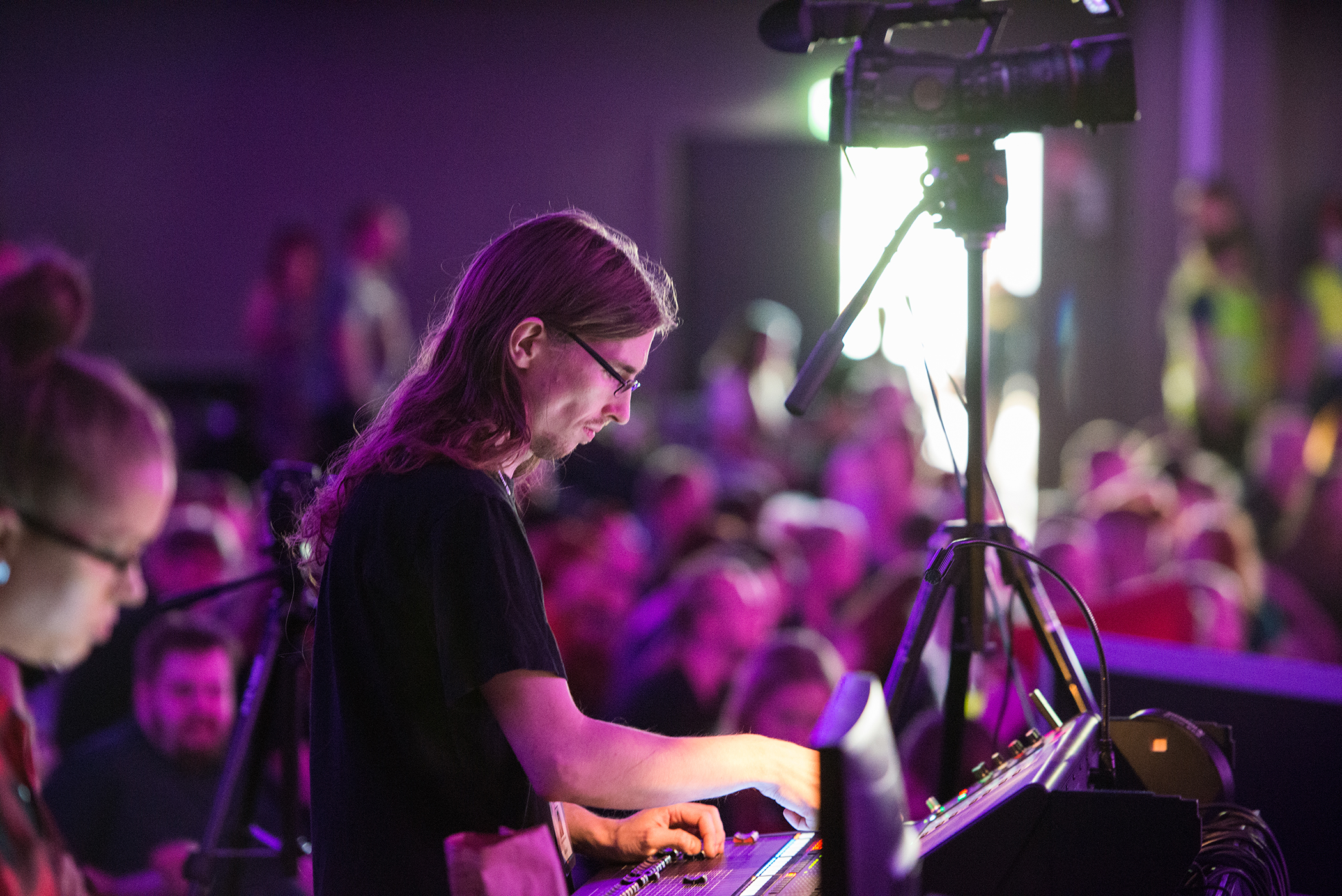 Volunteer perks
To be able to lend us a hand as a volunteer hero, you will receive a weekend ticket to Ropecon. There are two 4-hour shifts in your chosen volunteering position and one 2-hour shift as an on-call backup staff, so a total of 10 hours of volunteering during the convention. All volunteer heroes have access to the Staff Lounge which serves hot and cold beverages, sandwiches and snacks during the convention.
Volunteer heroes also have an opportunity to order their own Ropecon 2019 staff T-shirt (self-financed).
All volunteer heroes are invited to the staff after party which is held after the convention weekend. The staff after party is our way of thanking everyone who made Ropecon happen: food and non-alcoholic beverages will be served along with some live music, and afterwards you can enjoy a sauna by the seaside.
Become a Part of the Ropecon Mythology!
Sign up as a volunteer hero via Kompassi:
Any questions?
tyovoima@ropecon.fi